Vocals, Keys, Arrangements -- Cliff Ernst.  Cliff hails from Oklahoma, where his mom taught him to read music before he could read words. His classical music training continued through piano lessons, concert bands and church choirs until high school. Then he joined a rock band and forgot all that good music education. He always loved R&B but never played or sang it until founding RC. He aint lookin' back.



Guitar, Vocals -- John Puailoa.  John, a California native, attended the Berklee College of Music where he attained a joint degree in guitar and sound engineering.  He moved to Austin a few years ago to work in the financial sector.  John shares lead vocals with Cliff and his blazing leads and solid rhythm playing have taken the band to new heights.

Drums -- Rob Ward.  Rob trained as a classical percussionist and jazz drummer.  Rhythm Congress represents his first venture as a rock drummer.  We are happy to be "corrupting" Rob and grateful for his solid tempos and the sophistication he lends to our group.


Percussion -- Patrick Knighten.  Patrick grew up in north Louisiana and has long had his heart in jazz and blues. Having spent years playing in marching and concert bands, he happily sets aside his band uniform and tuxedo to jam with Rhythm Congress on all the percussion he can get his hands on. Although he wasn't alive when much of this music was out the first time, he is making up for lost time now and enjoying every minute of it!


Bass -- Daniel Garza.  Daniel was a founding member of the band (Capital Retro) that Cliff joined when he moved back to Austin several years ago.  In addition to playing the bass, Daniel is a film and technology production specialist.  He and Cliff are happy to be reunited in Rhythm Congress.


 

 
Trumpet -- Randy Howard.  Randy Howard grew up in a family with a passion for music, including a father and uncle that both play trumpet.  After retiring from software development, he got back into playing full time and enjoys performing with several groups in the  Austin area.

Trumpet -- Terry Armstrong.  Terry, a Houston, Texas boy, was a top gun fighter pilot until he gave up jets for the trumpet.  He has played big band style trumpet around Central Texas for several years. He started rocking with Rhythm Congress shortly after it was founded.



Trombone -- Kevin Beiter.  Kevin is an Austin native.  He studied trombone at the University of Texas College of Music and played with the San Antonio Symphony.  He has been helping hold down the low end of the Rhythm Congress horn section since 2019.

Baritone Saxophone -- Ernie Campos.  Ernie is a staple of the Austin music scene and plays reeds with many bands in the Austin, Texas region.  Ernie holds the distinction of being the "nicest" person in Rhythm Congress (if not in all of Austin).



Alto Saxophone -- Herb Holland.  Herb is originally from Houston, Texas.  A classically trained oboist, Herb turned to sax during a mid-life funky crisis, and has been getting down ever since. (We only occasionally have to help him back up!)  He is founder and promoter of the Texas Community Music Festival, held in Austin each spring.



Saxophones -- Steve Sabino.  Steve hails from New York and holds music degrees from the Crane School of Music where he was classically trained as a clarinetist.  He picked up the Sax at age 13 and played in R&B and Jazz groups in the 70's and 80's.  Recently retired from IT, Steve is excited about playing again with Rhythm Congress. 

 
Guitar, Vocals -- Devin Garza.   Devin was also a founding member of the band, Capital Retro.  In addition to playing the Guitar, Devin is a Physician, and Rock music fan.  The sound of that Rhythm Congress 'live' horn section, and a chance to play with his brother, Daniel, and Cliff again, called him back on stage.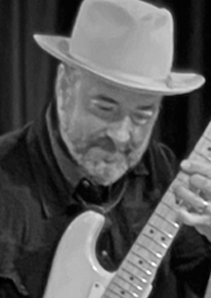 ---
Rhythm Congress Alumni:
Vocals -- Samantha Prate. Samantha moved to Austin, Texas in 2012 from her home state of New York. Samantha received her education at Manhattanville College as well as Lee Strasberg Institute. She was classically trained and thereafter studied musical theater, pop, and R&B. Samantha studied under Phyllis Lynd, Seth Riggs and Charles Mandrachhia and is currently a student of Gene Raymond, based in Austin. Samantha is the US and Canadian National Anthem singer for the Texas Stars Hockey Team.  She is thrilled to be finally getting the chance to sing the soulful tunes she had always admired and loved! www.samanthaprate.com


Tenor Saxophone -- Frank DeMar.   Frank began playing clarinet in grade school, and picked up the sax in high school.  He played his first gig at the age of 14 when a neighbor heard him practicing and asked him to fill in for the sax player in his wedding band.  A veteran of the Los Angeles music scene in the 80's, Frank now lived and performs in Austin Texas, "Live Music Capital of the World."  With deep roots in Blues and Jazz, Frank feels the term "soul jazz" best describes his style of playing.